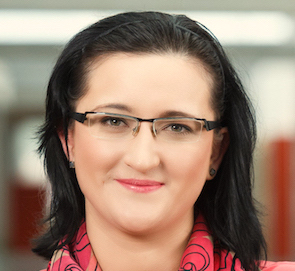 Assistant Professor
Department of Biomedical Informatics

Associate Faculty
Kempner Institute for the Study of Natural and Artificial Intelligence
Associate Member
Broad Institute of MIT and Harvard

Faculty Affiliate
Harvard Data Science

scholar.harvard.edu/marinka · Google Scholar
Marinka Zitnik is an Assistant Professor at Harvard University in the Department of Biomedical Informatics. Dr. Zitnik is Associate Faculty at the Kempner Institue for the Study of Natural and Artificial Intelligence, Broad Institute of MIT and Harvard, and Harvard Data Science. Dr. Zitnik investigates foundations of AI to enhance scientific discovery and facilitate individualized diagnosis and treatment in medicine.
Dr. Zitnik joined Harvard as an Assistant Professor in December 2019. Before joining Harvard, she was a postdoctoral scholar in Computer Science at Stanford University. She was also a member of the Chan Zuckerberg Biohub at Stanford. She received her bachelor's degree, double majoring in computer science and mathematics, and then graduated with a Ph.D. in Computer Science from University of Ljubljana just three years later while also researching at Imperial College London, University of Toronto, Baylor College of Medicine, and Stanford University.
Her algorithms and methods have had a tangible impact, which has garnered interests of government, academic, and industry researchers and has put new tools in the hands of practitioners. Some of her methods are used by major biomedical institutions, including Baylor College of Medicine, Karolinska Institute, Stanford Medical School, and Massachusetts General Hospital.
This research received best paper and research awards from International Society for Computational Biology, Bayer Early Excellence in Science Award, Amazon Faculty Research Award, Google Faculty Research Scholar Award, Roche Alliance with Distinguished Scientists Award, Sanofi iDEA-iTECH Award, Rising Star Award in Electrical Engineering and Computer Science (EECS), and Next Generation Recognition in Biomedicine, being the only young scientist with such recognition in both EECS and Biomedicine.
Dr. Zitnik is an ELLIS Scholar in the European Laboratory for Learning and Intelligent Systems (ELLIS) Society. She is a member of the Science Working Group at NASA Space Biology.
Dr. Zitnik co-founded Therapeutics Data Commons and is the faculty lead of the AI4Science initiative.
Dr. Zitnik is the recipient of the 2022 Young Mentor Award at Harvard Medical School.
Dr. Zitnik was named Kavli Fellow 2023 by the US National Academy of Sciences.